Silicone rubber
is a popular material for gaskets due to its unique combination of properties that make it highly suitable for various sealing and gasket applications. The key properties of silicone rubber that make it ideal for gaskets include:
Temperature Resistance: Silicone rubber can withstand a wide range of temperatures, from extremely low to high temperatures, without losing its flexibility or sealing properties. It remains elastic and functional within a temperature range of approximately -60°C to 230°C (-76°F to 446°F). This property is essential for gaskets used in both extreme cold and heat environments.
Chemical Resistance: Silicone rubber has excellent resistance to a variety of chemicals, including acids, bases, solvents, and oils. It is particularly known for its resistance to water, making it a preferred choice for gaskets in applications where exposure to moisture is common.
UV and Ozone Resistance: Silicone rubber is highly resistant to ultraviolet (UV) radiation and ozone, making it suitable for outdoor and long-term exposure to sunlight and weather.
Electrically Insulating: Silicone rubber is an excellent electrical insulator, making it suitable for gaskets in electrical enclosures, connectors, and other electronic applications.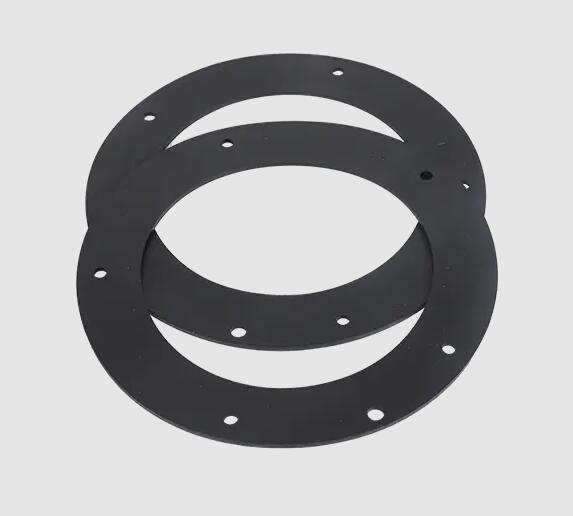 Elasticity and Flexibility: Silicone rubber is highly elastic and flexible, allowing it to conform to irregular or uneven surfaces. This property ensures a tight and reliable seal, even in challenging sealing conditions.
Low Compression Set: Silicone rubber exhibits a low compression set, which means it retains its shape and sealing ability over time, even when subjected to compression or deformation.
Good Tear Strength: Silicone rubber has good tear resistance, which is important for gaskets that need to withstand mechanical stress and movement without tearing or losing their seal.
Non-Toxic and Food-Grade Options: Silicone rubber gaskets are available in food-grade and medical-grade formulations, making them suitable for applications in the food, pharmaceutical, and medical industries.
Non-Stick Properties: Silicone rubber has a non-stick surface, which is beneficial for gaskets in applications where the gasket may need to be removed and replaced periodically without sticking to the mating surfaces.
Moldability and Formability: Silicone rubber can be easily molded and fabricated into complex shapes and sizes, making it suitable for custom gasket designs and prototypes.
Low Odor and Taste Transfer: For gaskets used in the food and beverage industry, silicone rubber imparts minimal odor or taste to the products it comes into contact with, ensuring that the quality of the contents remains unaffected.
Resistance to Microbial Growth: Silicone rubber is resistant to microbial growth, which is important for gaskets in applications where hygiene and cleanliness are critical, such as in the food and pharmaceutical industries.
Weatherability: It can withstand exposure to various weather conditions, including rain, snow, and temperature fluctuations, making it suitable for outdoor gasket applications.
These properties make silicone rubber an excellent choice for gaskets used in a wide range of industries and applications, including automotive, aerospace, electronics, food processing, medical devices, and industrial equipment. Silicone rubber gaskets provide reliable and long-lasting sealing solutions in diverse and challenging environments.